---
TAHLEQUAH, Okla. — The Cherokee Nation recently unveiled a bench monument to recognize Congressional Medal of Honor recipient Dwight Birdwell for his dedicated time in service to the United States and for serving the Cherokee Nation proudly.
Principal Chief Chuck Hoskin Jr., Deputy Chief Bryan Warner, members of the Council of the Cherokee Nation and Secretary of Veterans Affairs S. Joe Crittenden joined Birdwell for the bench unveiling ceremony at the Veterans Center on Friday, May 12.
"Cherokee people have always been willing to answer the call to serve this country and Mr. Dwight Birdwell has done so exceptionally and proudly. He is a true Cherokee patriot who has put his own life at risk with no hesitation and expected no acclaim," Chief Hoskin said. "Honoring his heroic deeds and monumentalizing him in Cherokee history is the appropriate thing to do for his bravery and selflessness. We are tremendously proud of Dwight Birdwell, as a fellow Cherokee. He represents thousands of Cherokees over the generations who have proudly served our country to protect our freedoms."
Spc. 5 Birdwell was a soldier with Troop C, 3rd Squadron, 4th Calvary, 25th Infantry Division. Originally from Adair County, Birdwell is one of three Cherokees throughout history to receive the Medal of Honor.
In July 2022, President Joe Biden presented the Medal of Honor to Birdwell in a special ceremony at the White House.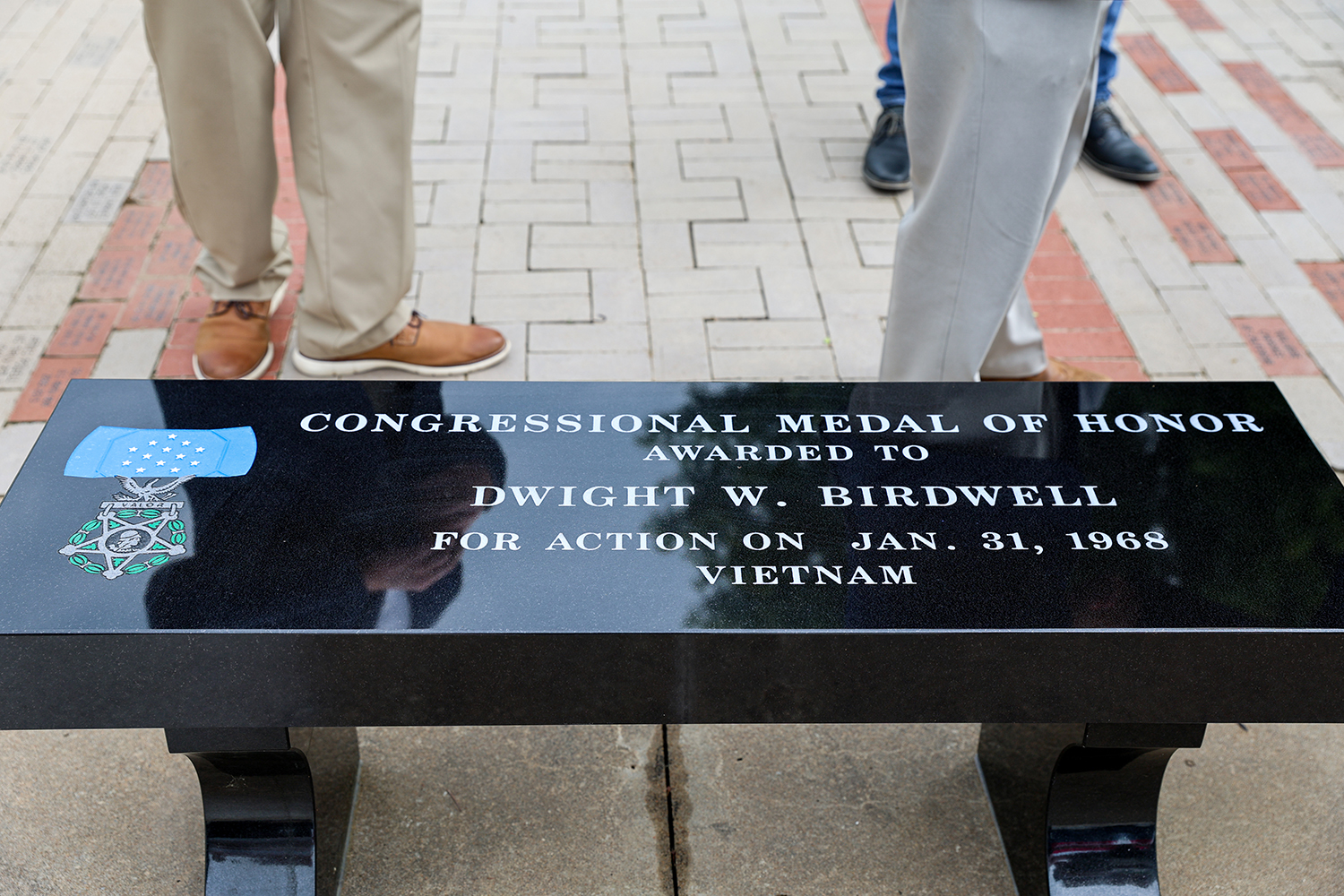 Birdwell earned two Purple Hearts, the Bronze Star, and two Silver Star medals for extraordinary heroism in multiple battles. Birdwell was also a member of the Supreme Court of the Cherokee Nation from 1987 to 1999, serving as its chief justice from 1995 to 1996 and 1998 to 1999.
"I am very humbled that the Cherokee Nation would do this in my honor. Thank you so very much for this honor," Birdwell said. "Please keep in mind that no matter what job a veteran did, it was very important. In the oral tradition of the Plains Indians, they passed down the importance of doing your job well. They taught that even the person that held the horses when they were raiding the settlements was a very important job, and that is true. Whether you were in combat, whether you were a pilot, whatever you did was of great importance to our country."
The bench is located at the Cherokee Warrior Memorial outside the Cherokee Nation Veterans Center.
"There are many bricks at our memorial with names of veterans who served this great country. The bricks often mention a veteran's branch of service, dates of service and a war or armed conflict they fought in, and we have four benches at our memorial with veterans who earned the highest of military honors," Secretary Crittenden said. "They were all heroes, as is Dwight Birdwell, whom I've known for 60 years. He is a true patriot, a Cherokee warrior, a great soldier, a hero and my friend."
Birdwell joins only 3,800 service men and women since the Civil War awarded the Medal of Honor, including Cherokee citizens Jack C. Montgomery and John Noah Reese in World War II.
For more information on Birdwell's Medal of Honor visit www.army.mil/medalofhonor/birdwell.