---
STILWELL, Okla. — The Cherokee Nation broke ground Tuesday in Stilwell on a new state-of-the-art, $18 million health and wellness facility near the Wilma P. Mankiller Health Center.
The Mary L. (Holland) Carson Wellness Center will be a two-story building with approximately 50,000 square feet. The five acres of land that it will sit on were donated to Cherokee Nation by Jim Carson and Drew Carson of Adair County.
"In 2021, Deputy Chief Warner and I signed the Cherokee Nation Public Health and Wellness Fund Act. It's wellness centers like this one, the Mary L. (Holland) Carson Wellness Center that we dreamed the Cherokee Nation could fund and build," Principal Chief Chuck Hoskin Jr. said. "When construction on this building is complete, it will provide a place for Cherokees to go, where it will help their overall health and wellness. This wellness center was the first major construction announcement we made after signing the Public Health and Wellness Fund Act and I'm thrilled to see it finally coming to life. When it's all complete, this will be a huge step forward in helping Adair County citizens in their wellness."
In October 2021, Chief Hoskin signed an executive order creating the Cherokee Nation Task Force on Physical Wellness to assess the availability and effectiveness of existing physical wellness programs for Cherokee citizens across the tribe's reservation and to identify new programs or facility needs to address gaps that may exist.
Cherokee Nation Public Health conducted a study that same year with a focus on increasing access to physical activity in the Cherokee Nation Reservation. The study identified Adair County as being a priority area.
"This new wellness center will be such a blessing to not only Adair County Cherokees, but will also assist our Public Health team in their efforts of helping Cherokees be proactive in their health and wellness," Deputy Chief Bryan Warner said. "Our Public Health and Health Services teams both report high numbers of diabetic patients, patients with hypertension, those in need of physical therapy and patients at risk for chronic health conditions in Adair County. This wellness center is one great way we can help these patients overcome health and wellness barriers and I can't wait to see how people's lives will improve."
The plans for the Stilwell wellness center consist of outdoor amenities like walking trails, gathering spaces and a place for a marble field. The indoor portion will house a fitness center, daycare, teaching kitchen, classroom, administration space and a congregation café. The fitness center includes a basketball court, weight and cardio area, studios and a running track.
The construction of this wellness center marked the first major project to begin construction under the tribe's Public Health and Wellness Fund Act.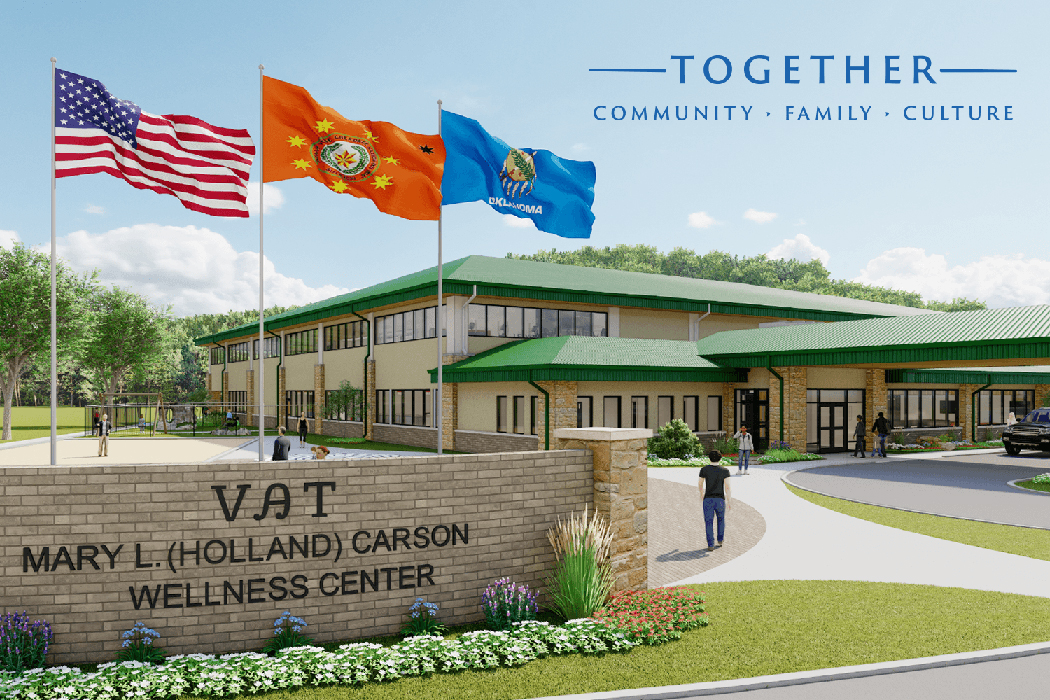 Under the Public Health and Wellness Fund Act, 7% of funds generated by Cherokee Nation Health Services through third-party revenue is being earmarked to provide substance abuse treatment centers and wellness centers, much like the Mary L. (Holland) Carson Wellness Center.
The construction on this build will be an 18-month process and will create 150 construction jobs.
"I am so excited to see the construction begin on this wellness center," Council of the Cherokee Nation for District 8 Shawn Crittenden said. "I'm proud to be a part of this project and see it finally taking off. This will improve so many lives in Adair County."
The tribe also recently broke ground on a new Salina Health Center, which will include a 15,000-square-foot wellness center with a cardio and strength training room and group fitness classes, physical therapy services and an outdoor half-mile walking trail. The tribe will eventually replace the Male Seminary Recreation Center in Tahlequah and will continue to find other opportunities across the reservation to make physical wellness programs available.
"I'm extremely excited to see this wellness center construction begin," Council of the Cherokee Nation for District 7 Joshua Sam said. "This center will not only help Cherokees right now with their overall health and well-being, but this center will make it possible for future generations' wellness. I'm proud to see it right here in Stilwell and can't wait to see more across the reservation."
Blue River is the architectural firm and MASKA is the contractor for the Mary L. (Holland) Carson Wellness Center.
"Our family is very pleased to provide this land for the Cherokee Nation and especially for this purpose, the wellness center," said Drew Carson. "It'll be in good hands at the Cherokee Nation, to develop a vision for wellness in this area."
Cherokee Nation currently has more than $750 million in infrastructure construction projects ongoing through more than 50 projects located across the tribe's reservation.