---
TAHLEQUAH, Okla. — Cherokee Nation Principal Chief Chuck Hoskin Jr. and Deputy Chief Bryan Warner propose to increase Cherokee Nation college scholarships from $2,000 to $2,500 per semester over the next two years. 
The proposal includes an initial step increase of $250 per semester in assistance beginning this fall and an additional $250 per semester beginning in the fall of 2024, bringing the total per semester award to $2,500.  
"Education is such an important investment," said Chief Hoskin.  "If we want the generation of Cherokees coming up to be the leaders of tomorrow, we need to keep pace with the rising cost of higher education.  Deputy Chief Warner and I have put forth a plan that is both impactful and sustainable and will help ensure future success for Cherokee college students."  
The increase will affect about 5,000 Cherokee citizen college students who receive the scholarship per semester. In Fall 2022, 4,261 students in the Cherokee Nation Reservation and 1,060 at-large received Cherokee Nation scholarships.  
Those numbers represent the largest number of Cherokee students, both at-large and within the reservation, to participate in the program in Cherokee Nation history.  Cherokee Nation expects to spend around $20 million for scholarships during the current academic year.
"This proposal adds more than $2 million in college education assistance students receive per year and speaks to our dedication to education," Deputy Chief Warner said. "This investment adds to the overall investments we've also made in career training programs and early learning." 
The last time a college scholarship was increased was in 2012.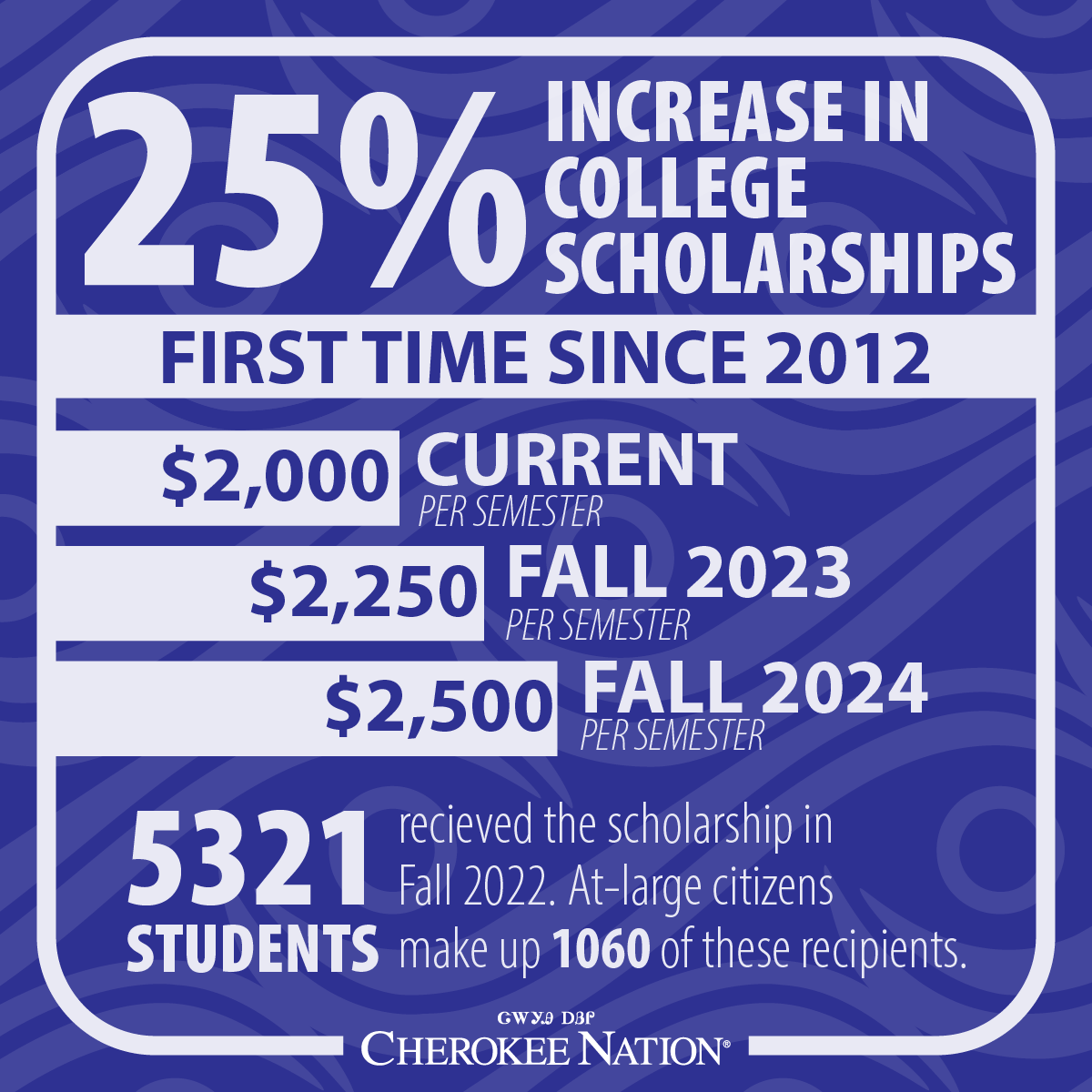 "This is a sustainable budget increase given our overall responsible spending across programs and services in recent years and an investment that will serve well so many of our Cherokee young people pursuing their livelihoods," Treasurer Janees Taylor said.
Cherokee Nation offers an array of education services, including a College Resource Center for citizens pursuing higher education, concurrent enrollment for eligible high school students and academic and cultural support for K-12 students through Johnson O'Malley programs, among other assistance such as early learning and Career Readiness trades training programs.
"Cherokee Nation continues to support our young people no matter what path they choose," said Speaker of the Council Mike Shambaugh. "I'm proud of the work we've accomplished together in the area of education under the leadership of Chief Hoskin, Deputy Chief Warner and through our Council education committee with Councilor Shawn Crittenden who serves as chair."
Chief Hoskin and Deputy Chief Warner's plan will be presented to the tribe's budget committee with a final Council vote anticipated in May.
The deadline to apply for the Cherokee Nation college scholarship for fall is June 15. Applications are open now on the Gadugi portal.  For more information on education services https://www.cherokee.org/all-services/education-services/.