---
TAHLEQUAH, Okla. — The Cherokee Nation honored two veterans with the Medal of Patriotism during the July meeting of the Council of the Cherokee Nation.
Prentice Robinson of Broken Arrow and Tommy Carlton Doss of Tulsa were recognized by Cherokee Nation Principal Chief Chuck Hoskin Jr., Deputy Principal Chief Bryan Warner and Secretary of Veterans Affairs S. Joe Crittenden, acknowledging their service and sacrifice to their country.
Prentice Robinson joined the United States Army on August 19, 1954. After completing eight weeks of basic training, Robinson would go on to Fort Knox, Kentucky, for mechanic school. Robinson was then deployed and stationed at the Schofield Barracks in Oahu, Hawaii, and he remained there until being honorably discharged on August 10, 1956.
"I'd just like to say thank you again for this honor," Robison said. "I'd do it again."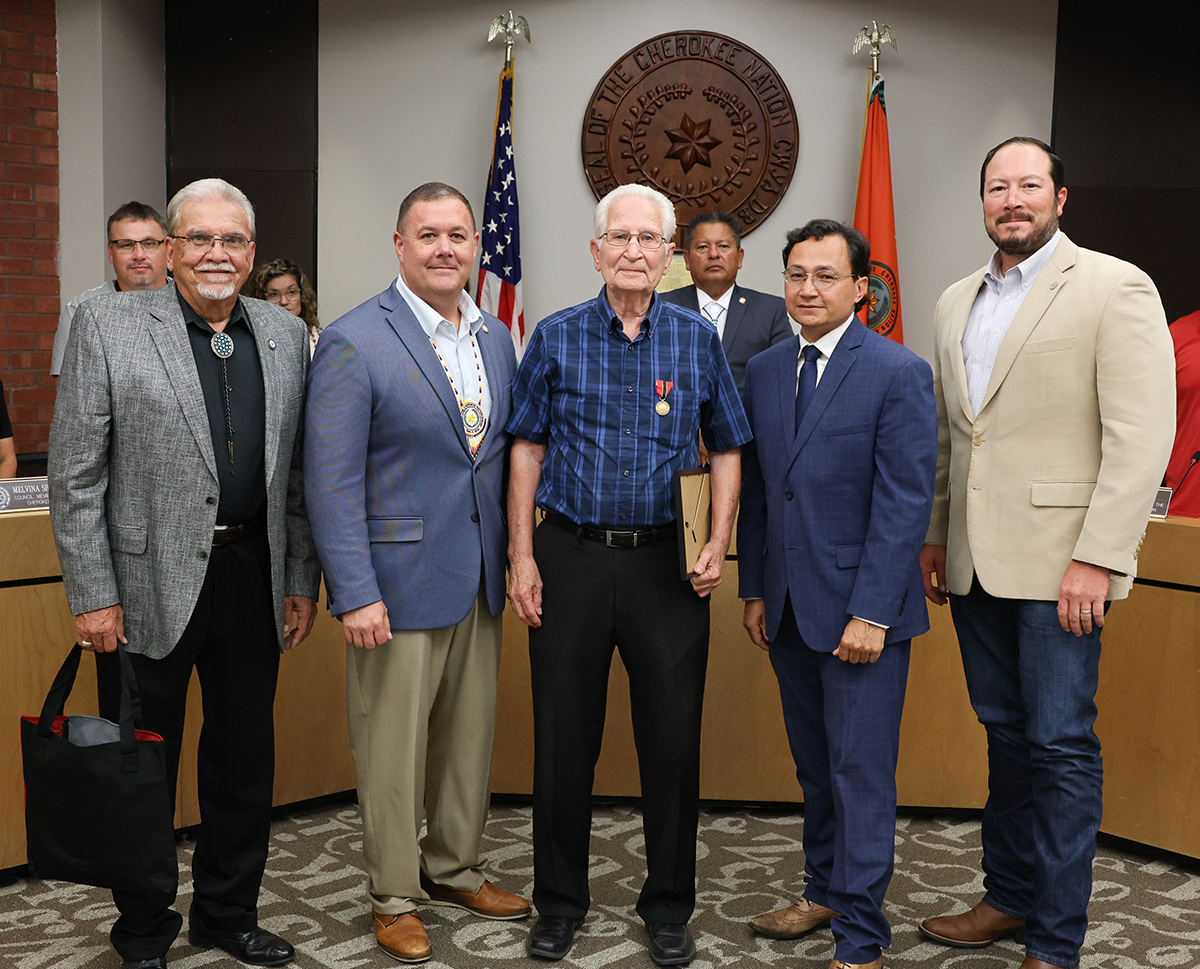 Tommy Carlton Doss entered the United States Marine Corps on September 20, 1973. Doss completed boot camp at the Marine Corps Recruit Depot in San Diego, California, and was assigned to Platoon 3095. He graduated from boot camp on December 20, 1973. Doss was then assigned to MOS 6500 Aviation Ordnance and then finished his aviation ordnance training at MCAS El Toro, California. After graduation, he was assigned to VMA223 MCAS Yuma, Arizona. He was then transferred to MCAS Iwakuni, Japan, and deployed to Misawa, Japan, Subic Bay/Cubi Point in the Philippines and Clark Air Force Base in the Philippines. Doss was selected and promoted to E-6 Sergeant in December of 1977. He was honorably discharged on May 5, 1980.
Doss received the Good Conduct Medal.
Each month the Cherokee Nation recognizes Cherokee service men and women for their sacrifices and as a way to demonstrate the high regard in which all veterans are held by the tribe. Native Americans, including Cherokees, are thought to have more citizens serving per capita than any other ethnic group according to the U.S. Department of Defense.
To nominate a veteran who is a Cherokee Nation citizen, call 918-772-4166.