---
KENWOOD, Okla. — Cherokee Nation leaders gathered with members of the Kenwood community Monday to hold a topping-out ceremony in celebration of the placement of the final steel beam for the future state-of-the-art Cherokee Nation Woody Hair Community Center being constructed in Kenwood.
The future 33,000-square-foot facility will provide a space for Kenwood community members to hold community events, an elder nutrition program, wellness programs, a new Head Start facility, school sporting events and more.
The facility's projected completion date is the spring of 2024 and is a total investment of approximately $21 million including crucial water infrastructure investments that will support the new facility along with the community of Kenwood as a whole.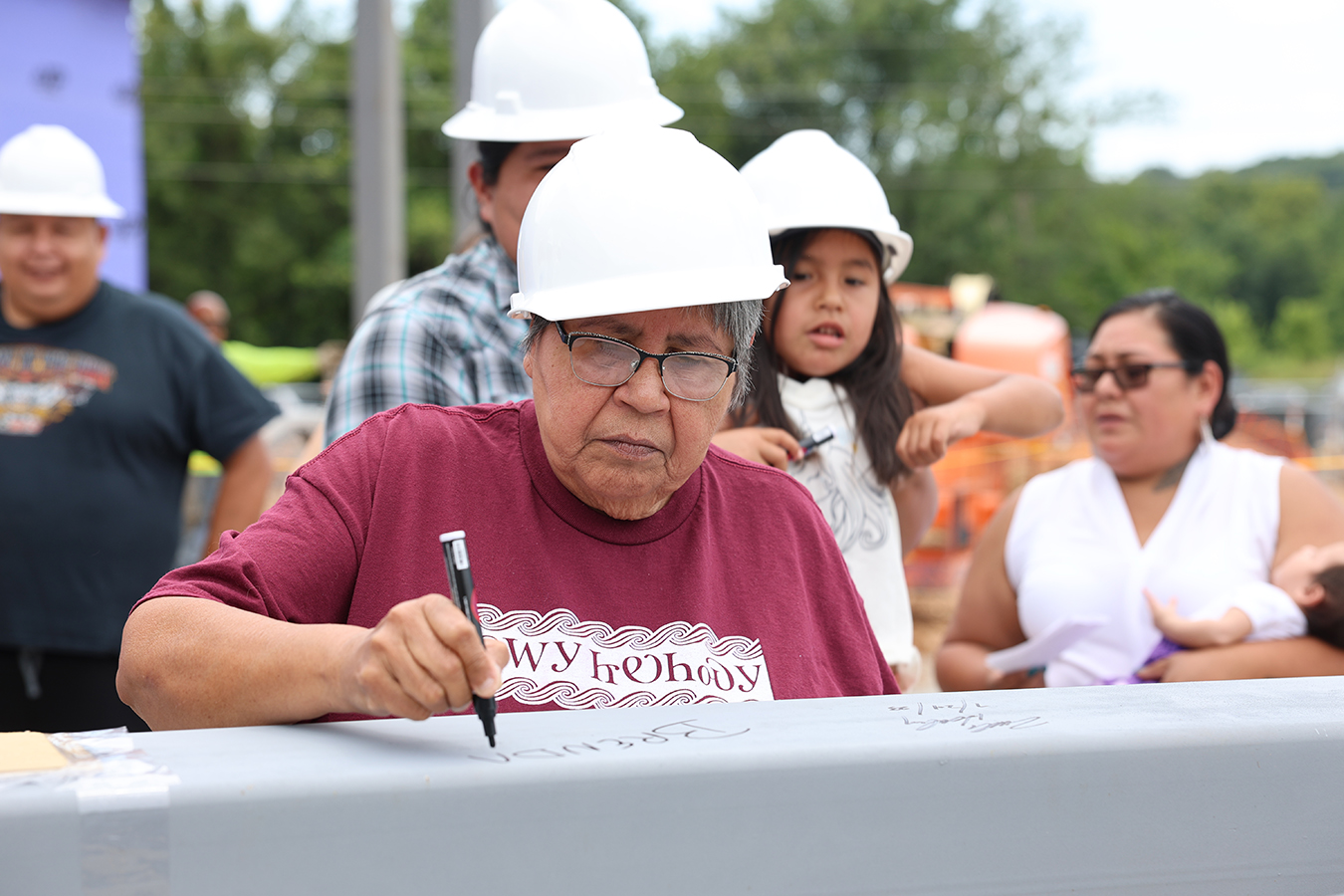 "The Woody Hair Community Center is going to be something very beneficial to the Kenwood community, serving a vital purpose and giving families and young people a place to gather. It will give all of us an opportunity to perpetuate and share our lifeways," Cherokee Nation Principal Chief Chuck Hoskin Jr. said. "But this community center is also one example of how we ought to measure the progress that we're making in the Cherokee Nation. We could measure it in so many ways. We could measure it across the spreadsheets of our budget. We could measure it on the economic impact we have across the region. But what we really ought to be doing is measuring it by how we're impacting and bettering our smallest of communities – those communities that were founded generations ago, and those communities in particular where our lifeways, our language and what it means to be Cherokee are deeply rooted. That is part of what this future community center in Kenwood represents."
The multi-purpose community facility will house a 1,300-square-foot wellness space and locker rooms that will be capable of doubling as safe areas during severe weather. Also included will be an 11,000-square-foot multi-purpose gymnasium for high school sports and community basketball and volleyball tournaments. The gym will be able to seat over 400 people for banquet-style events.
The facility will comprise two Head Start classrooms totaling more than 2,800 square feet and capable of welcoming up to 40 students. The Head Start will have an outdoor and covered play area, storm-safe areas, a commercial kitchen and staff offices.
The site will include a new softball field with dugouts, bleacher seating, an announcer's booth and restrooms; an outdoor basketball court; a quarter-mile walking/running path; a space for traditional Cherokee games such as stickball, marbles and chunkey; and a shaded picnic/seating area.
"It's exciting to see the progress that's been made on this impressive construction project for our new, state-of-the-art community center," Council of the Cherokee Nation Speaker Mike Shambaugh said. "This will be a space that I know many District 9 families and organizations will have opportunities to congregate and enjoy, and we look forward to the facility's completion next year."
The Cherokee Nation Woody Hair Community Center is named in honor of the late Woody Hair, who was a fluent Cherokee speaker from the Kenwood community.
Ahead of the final steel beam's placement Monday afternoon, the community gathered to sign their names onto the beam, with several of them honoring Hair.
"Woody meant a lot to our family and our community. We miss him, but he would be very proud of this community center. He would be overwhelmed by this, really," OneFire Community Organization Vice President Dawni Squirrel said. "I think our Chief came to know a lot about our community through Woody, and so it's very appropriate that this facility is going to be named after him. This is important to us not just as a physical structure, but for our spirits, for our ability to come together, to enjoy one another's company, to support one another and to help one another."
Along with the community center, Cherokee Nation is using its Wilma P. Mankiller and Charlie Soap Water Act to invest $1.5 million for more community water system improvements, $2 million for a wastewater lagoon expansion, and approximately $3 million to support the Woody Hair Community Center and provide improved fire flow protection for the whole community.