---
TAHLEQUAH, Okla. — Keeleigh Sanders, 21, of Westville, was crowned Miss Cherokee 2023-2024 during the annual leadership competition held in Tahlequah on Saturday. The tribe also crowned a new Junior Miss Cherokee and Little Cherokee Ambassadors, all of whom will serve in their roles for the next year.
As Miss Cherokee, Sanders will represent the Cherokee Nation as a goodwill ambassador to promote the government, history, language and culture of the tribe. She also received a $6,000 scholarship.
"This is a group of young people who have decided to step up and do something special, they chose to be ambassadors of the Cherokee Nation. For that, all of them have my admiration," Cherokee Nation Principal Chief Chuck Hoskin Jr. said. "They are truly inspirational to all Cherokees and will be especially influential to our youngest Cherokee citizens. I'm particularly proud to see how passionate they are about sharing their culture and traditions and I am excited to see all that they will accomplish in the year to come."
Sanders is the daughter of Troy and Melissa Sanders of Westville. She is a senior at Northeastern State University, majoring in social work-child welfare. She volunteers in her community with many diaper, clothing and food drives and assists in teaching a Sunday school class of younger children at her church. She enjoys stickball and slow-pitch softball tournaments, beading, Native cooking and learning the Cherokee language.
"Thank you for giving me this opportunity to represent the Cherokee Nation as an ambassador, it is truly a dream come true," Sanders said. "I am incredibly blessed to have this opportunity and am looking forward to representing our tribe this next year."
The Miss Cherokee Leadership Competition judges contestants on their use of the Cherokee language, as well as cultural and platform presentations and responses to impromptu questions. Additional judges' categories include an interview, leadership and community involvement, and social skills. For her cultural presentation, Sanders shared the art of making corn bead jewelry. Her platform speech focused on bringing awareness to Indian Child Welfare.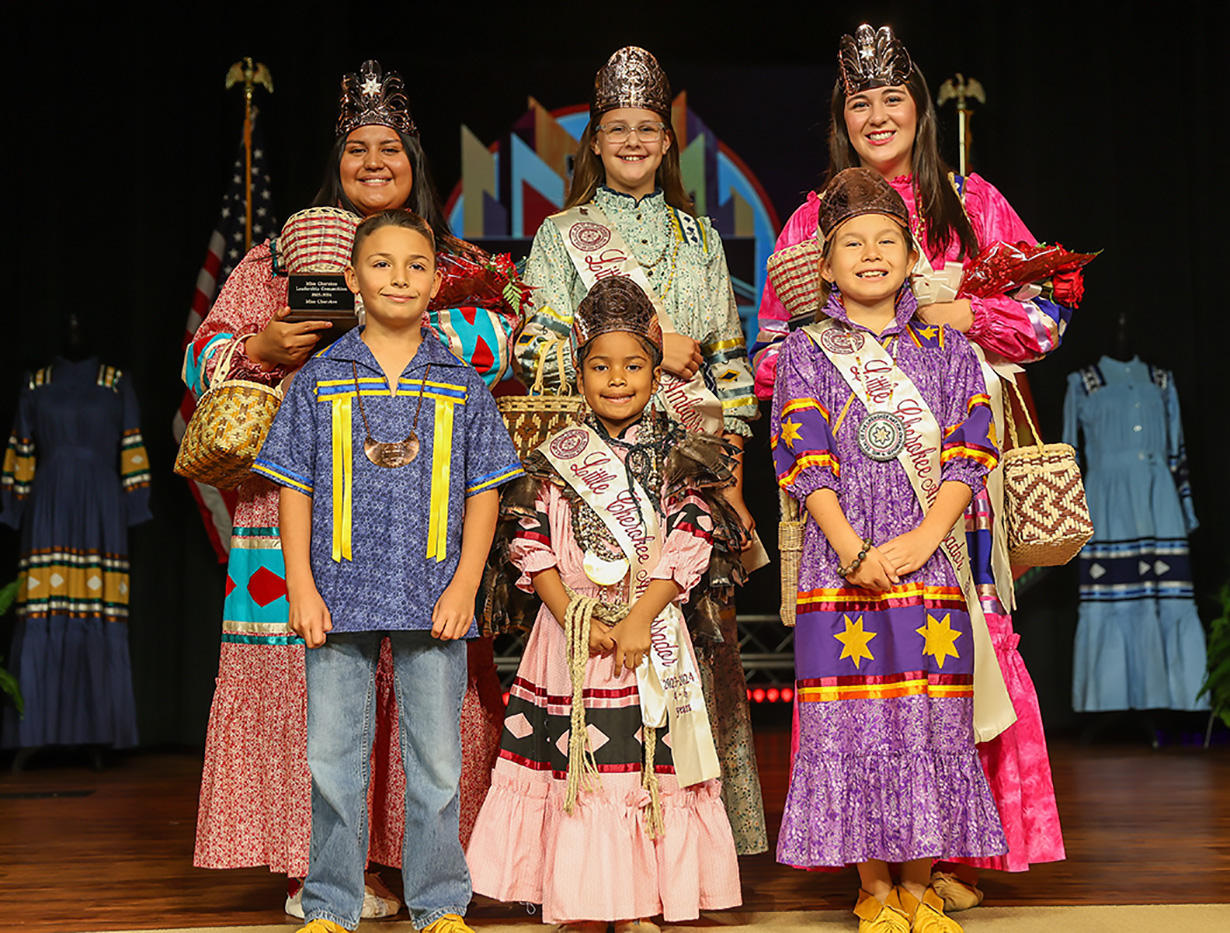 Miss Cherokee runner-up was Carolina Smith, 19, of Hulbert. Smith was awarded a $3,000 scholarship.
During the competition, Addison Rouse, 17, of Fort Gibson, was crowned Junior Miss Cherokee 2023-2024. As Junior Miss Cherokee, Rouse will represent the Cherokee Nation as a goodwill ambassador to promote the government, history, language and culture of the tribe.
"It is an honor and privilege to be given this opportunity to serve the Cherokee people," Rouse said. "This has been the most remarkable process and I have learned so much already, I am so thankful for those I got to share it with. I am looking forward to a wonderful year of bringing a deeper understanding of the Cherokee culture to the world."
Rouse is the daughter of Jennifer Rouse and Dr. Brant Rouse from Fort Gibson. She attends Fort Gibson High School and is a junior. She enjoys storytelling and singing, the arts, music and theater, participating in the Community Theater in Muskogee and has served as a stage manager for the middle school musical.
The 2023-24 Little Cherokee Ambassadors were crowned during a ceremony Aug. 18 in Tahlequah. Fourteen Cherokee children competed in four age divisions for the titles. Little Cherokee Ambassadors act as role models and ambassadors for the tribe by attending events and parades for the next year.
"Seeing our Cherokee youth find so much interest in being an ambassador on behalf of the Cherokee Nation, it makes the heart happy," Deputy Chief Bryan Warner said. "They will play such a prominent role in our future, and this is a great opportunity for them to be able to participate in the tribe by sharing their culture and traditions."
Grace Thomas, 11, of Tahlequah, was crowned Little Cherokee Ambassador in the 10-12 age category. Grace sang a song in Cherokee for her cultural presentation.
Winning in the 7-9 age category was Skye Rodwell, 9, of Tahlequah, who demonstrated her blowgun skills. Ryan Altaffer, 9, of Tahlequah, sang a song in Cherokee for his cultural presentation and won in the boys 7-9 age category.
In the Little Cherokee Ambassador 4-6 age category, Camille Teehee, 5, of Stilwell, won the title. Camille told a Cherokee story for her cultural presentation.