---
TAHLEQUAH, Okla. – Pop culture meets Cherokee traditional lore in a new outdoor public art exhibition featuring the work of Cherokee Nation artist Roy Boney Jr.
Hosted on the Cherokee Cultural Pathway in downtown Tahlequah, the exhibition showcases 14 large-scale reproductions of Boney's award-winning work, ranging from humorous takes on popular movies to studied interpretations of Cherokee history and culture. Boney's words accompany each piece to share the inspiration and processes behind the art.
"Roy Boney Jr.: Notes from the Storyteller's Sketchbook" debuted just in time for the Cherokee National Holiday and will run through next spring.
"Cherokee National Holiday is a huge celebration for the Cherokee people to come together, and I'm honored that my work is debuting during this weekend's celebration," Boney said. "Public art is a great way for communities to experience things they may not typically see, and the cultural pathway is creating access that we've never had before. Most of my paintings are fairly small due to my background in illustration, so seeing my work at this scale puts it into a different light. As an artist, I see the details and journey behind the piece and hope it sparks an interest to explore more about our culture."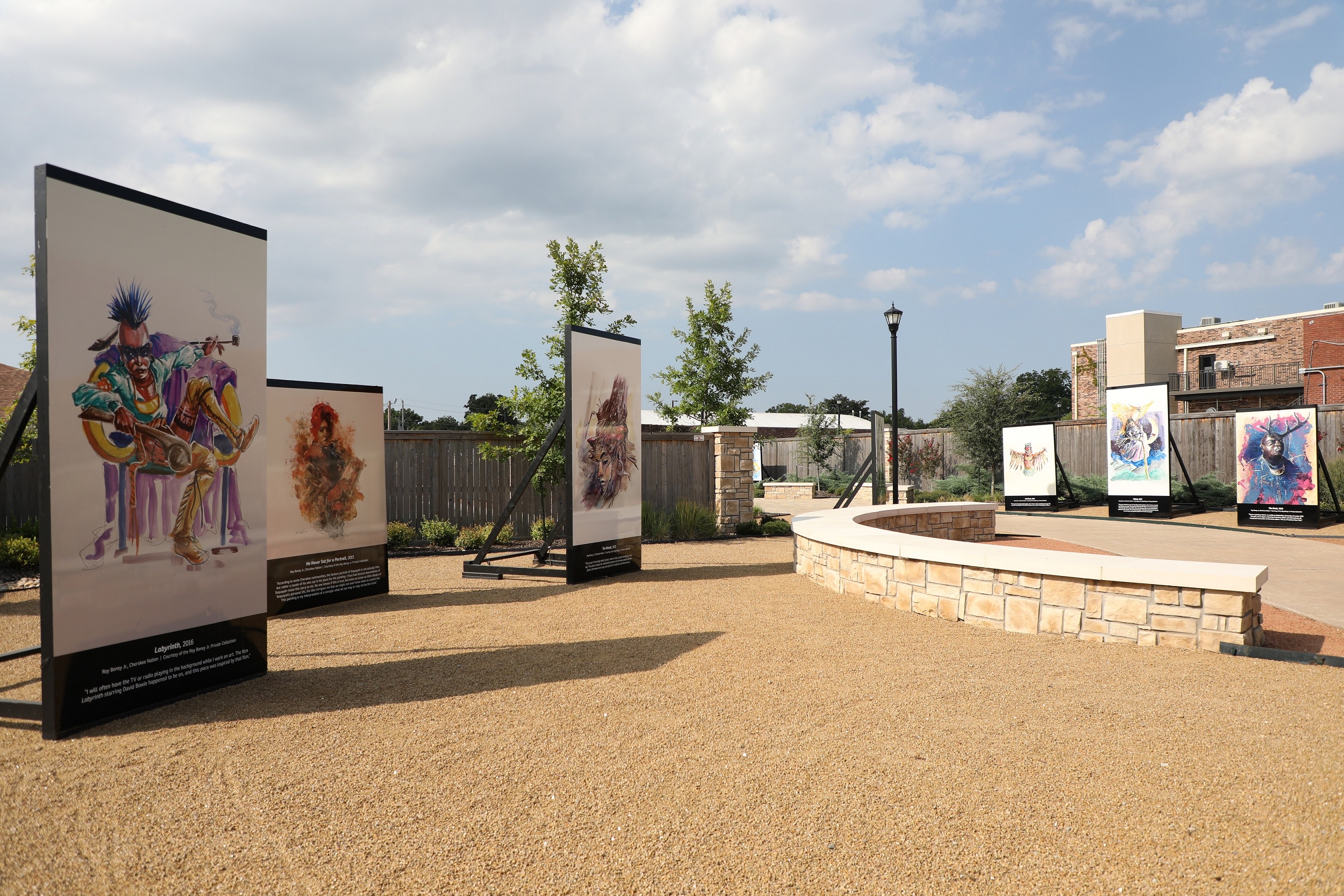 As an artist, animator and Cherokee language preservationist, Boney has crafted a unique style that celebrates traditional Cherokee stories by merging them with comic book appeal to create a unique vision of Cherokee culture shared through the lenses of history, science fiction and fantasy.
In 2021, his rendering of the Apache character Kushala was featured as one of four variant covers for Marvel Comic's "Marvel Voices: Heritage No. 1," an issue filled with stories and art by Indigenous artists. His graphic novel, "ᎦᎸᎶᎯ (Sky)," was released in spring 2023 and continues his exploration of the space where Cherokee traditional stories and American pop culture intersect.
The Cherokee Cultural Pathway opened to the public last fall. In addition to improving safety and accessibility between downtown cultural sites, the pathway provides various public gathering spaces for artist talks, community classes, mini-markets and more. ­­­It is managed by Cherokee Nation Cultural Tourism, which also oversees the tribe's award-winning specialty and event tours, the operation of six Cherokee Nation museums, and various Cherokee Nation retail operations. For more information, please visit www.VisitCherokeeNation.com.